Today is Mia's 11th birthday. Two years ago we didn't think she'd reach this milestone after three operations and cancer battles in between, but she's here and is making the most of life.
She is the Rottweiler most people will associate with UK dog attack stories, with her adult but puppy like face going a long way to show you can't judge all dogs the same, she has visited many radio and TV studios to debunk the myths about her breed and others. She's even been offered her own pass at Good Morning Britain.
But long ago she gave up - by and large - doing as she's told and she doesn't even have the excuse of being deaf, yet. It's entirely selective, we know it and she knows it. But we wouldn't have her any other way now. As the saying goes, she knows what she likes and she likes what she knows and the boys, Danny and Christopher adore her, as well as each other.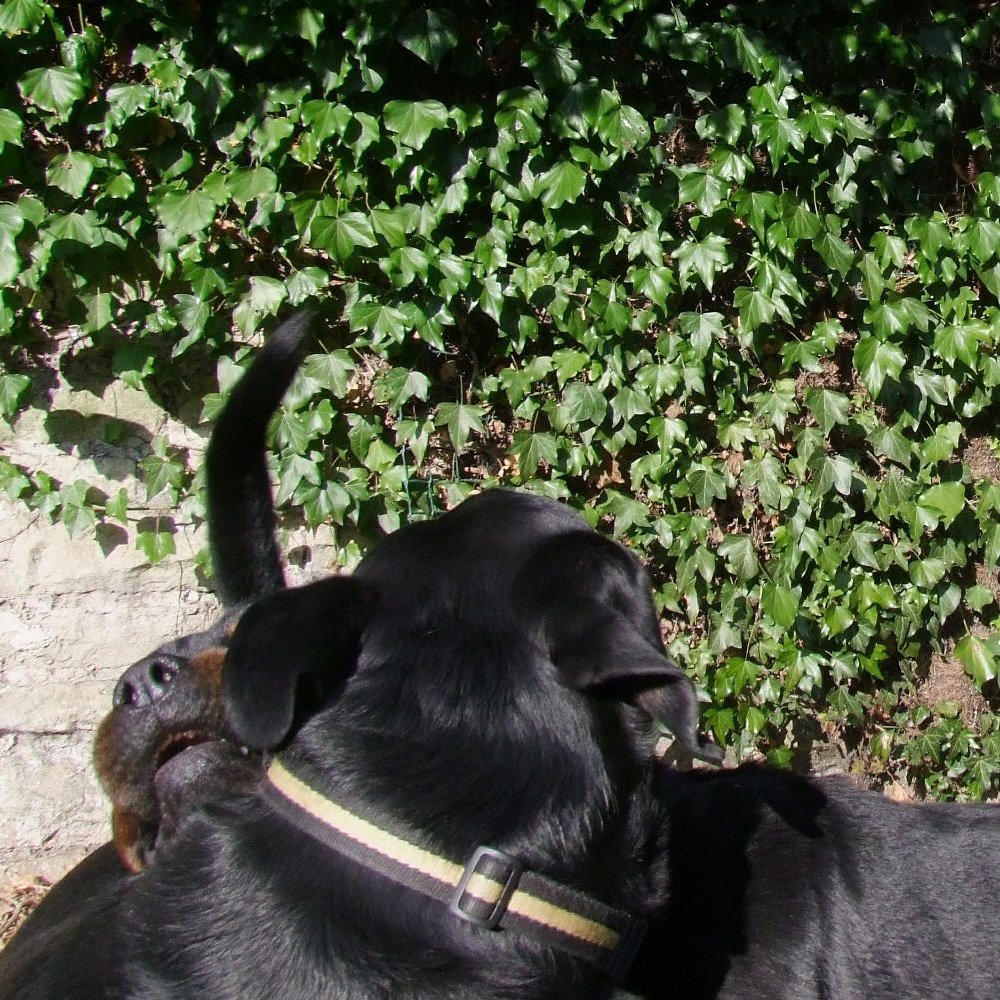 Knowing food is king to Mia, I decided to brave the kitchen and make her a cake to celebrate her 11th birthday.
I'm a fairly so-so cook and that's often how things turn out. But I was determined, for Mia, to make her a cake she would love, even if I knew deep down it wouldn't matter how it would taste - she'd eat it anyway.
I found a few healthy recipes I liked and adapted, combining flavours I knew she favoured. It's so simple - if I can make it I'm certain you can - and, as our video below shows it was a huge hit.
Peanut Butter and Banana Birthday Dog Cake
Here's what you'll need:
1 cup all-purpose flour
1 teaspoon baking soda
1/2 teaspoon salt
1/4 cup creamy all natural, peanut butter
1 large banana or 2 small-medium sized
1/4 cup canola oil
3/4 cup water
The above is for one cake. I decided to double my luck and while one cake was baking, set about making another - so I used double the ingredients to make a second layer.
And here's what you'll need for the icing:
1 cup of organic plain yoghurt (I chose natural low-fat yoghurt for its low fat and sugar content)
2-3 tablespoons of almond/coconut or peanut butter (if you use peanut butter make sure to avoid the low sugar varieties)
Plus additional treats to decorate, if desired.
Method:
The cake:
Mix the flour, baking soda and salt together.
Add in the smashed up banana(s) before pouring in the measured oil and water.
Scoop the peanut butter into a dish and place in the microwave for 30-45 seconds, until softened and more liquefied.
Then add to the mix and mix everything together until smooth.

I left some larger pieces of banana in the cake mix for variety.

Prepare your chosen tin with either non-stick spray or baking paper, whichever you prefer, before pouring your mix in.

Bake at 190c/375f for 40 minutes, or until golden brown and ready.
The icing:
Once your cake(s) are out of the oven and cooling down, you can begin making your icing topping. Mix together both ingredients until smooth.


The more almond/coconut/peanut butter you use, the thicker the consistency of the icing will be. For reference, I used three tablespoons of almond and coconut butter.

Once cool, spread the icing and decorate if desired. If you use multiple layers of cake, you can use the same amount of ingredients to layer in between as well as on top and all over.

I decorated with healthy dog treats that Mia loves. You can use essentially anything you know is healthy and your dog LOVES for this. It also hides a multitude of sins!
And finally, leave to set.

Here's how it went down with Mia, Danny & Christopher:
From...

To...