Anyone who's a Real Housewives fan will have heard of LeeAnne Locken.
She's shown all sides of herself on the show and owned them all. Above all, she wears her heart on her sleeve and from the moment we saw the Dallas housewife and her dog Carly onscreen wearing matching hot dog outfits last year, we knew she would go down in 'Housewives History'.
In excited anticipation of season three of The Real Housewives of Dallas hitting our screens, Kim O'Meara thought it would be the ideal time catch up with LeeAnne to hear all about her beloved dogs and what the new season has in store.

Photo Credit: Hilary Grace Cinque / Grace & Goose Photography
Hi LeeAnne, thanks so much for taking the time to chat with us.
Hi! No problem - thank you!
I know you have two dogs, Carly and Chief, who made a bit of an impact on Real Housewives fans last season so we can't wait to hear all about them.
How did they become a part of your family?
Well, Chief was the first one we acquired into our family.
I was actually working at Plano Television Network and I had just finished and was leaving the building when I noticed some women in the parking lot trying to catch this dog, which I assumed was their dog.
I had this beautiful white coat on and since I've always been good with dogs and kids, I thought I would help them. I said, 'come here, little boy'. He came running through all the cars, jumped up in my arms and on my white coat, covered in mud!
I carried him over to the women and said 'here you are' and they said 'he's not our dog, we've been trying to catch him because he's almost been hit by cars three times!' so I drove to six different vets in the area to see if he was microchipped or anyone recognised him and no one did.
So, I went home and posted pictures on Facebook, trying to get people to share so he could get back to his family before Christmas as it was December.
My then boyfriend, now fiancé, Rich fell in love with him. Chief was like his little service dog and still is to this day!

Photo Credit: Hilary Grace Cinque / Grace & Goose Photography
On my Instagram TV, I have this video of Chief's first bath that Rich gave him. It's hilarious and so cute!
Chief is the sweetheart in the family. I call him my little old man. He's just a sweetheart. He's the easy going one. He always wants to love and for everyone to get along.
We've had him now for about four years, I assume he was under a year when we found him, so just a puppy.
Wow, what a story. Finishing work when you did, you have to wonder if fate was perhaps leading you to him. 
So, how did Carly come to be in your life?
Carly, well how we got Carly was very different.
After having Chief for almost two years, he became very fat and lazy! He did not want to go out or do anything. He'd just sit on the sofa and want to eat dog bones. So Rich decided that we needed to get a little brother to keep him active.
I had gone to a charity event and ran into a lawyer friend who volunteers for an animal rescue group. She said she had found this dog and was going to post pictures, so I woke up half-remembering that and then I saw her picture, her eyes were just like Chief's eyes and I started yelling for Rich to come and see her!
A dog's eyes can tell you so much, can't they?
It's true.
Carly is a Beagle and she's the smarter of the two dogs.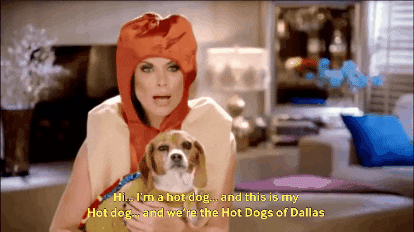 She was found in a dairy queen parking lot in Crandall, Texas, begging for dairy queen burgers. She was very hard to catch and my friend said she had to buy three burgers because she was so fat. She'd just eat it and ho-booty! (Laughs)
She finally caught her and brought her home. I said 'can I please bring Chief to see if they get along?' and I tell you what, they got along like Beans and Franks!
It was just amazing. The very first day they started playing together, it was precious.
It gave Chief his life back and got him off the sofa. To this day you will find Carly running up and saying 'come play with me!' and Chief will oblige because he's a sweetheart.
Carly definitely runs the household!

Photo Credit: Hilary Grace Cinque / Grace & Goose Photography
I know on the show you've spoken a bit about your childhood. Did you grow up with dogs?
Growing up with my grandparents, I had several dogs. We had a Border Collie called Duke who was just beautiful, gentle and kind. But the majority of my childhood I grew up with a Toy Poodle.
When I was in kindergarten, I was the only kid who received a phone call from a parent. I got called into the office to take the call and it was my mother. She wanted to ask me what I wanted as a gift for graduating kindergarten.
I said 'I want a chocolate brown Toy Poodle that I'll call Tootsie-Roll!' - which thinking about it shows I should have had a marketing degree at that point! (Laughs)
Instead, I got a little white Toy Poodle with a French name - 'Toulouse la Fayre' and he was my childhood Poodle growing up.
I loved Tootes, oh my god, we used to do everything with him. He was the sweetest. Sadly we had him with us at the carnival and he got out of the hotel and got hit.
He was paralyzed from the waist down. I stayed up with him to see if he'd get any sensation back. He didn't. I cried all night and we had to put him down the next day. But he was the best puppy I could have asked for.
He sounds like a fantastic dog, it's funny how each one leaves their mark on us in different ways, isn't it?
Talking of fantastic dogs: which of your dogs do you think most matches your own personality?
In our family, Carly totally is LeeAnne and Chief totally is Rich, and the way they play together is totally like LeeAnne and Rich (laughs).
Chief just wants to make everybody happy and Carly wants everything her own way. I think it's just precious.
Not sure if my fiancé agrees with me but I think it's hilarious.

Photo Credit: Hilary Grace Cinque / Grace & Goose Photography
If you were to swap roles with either Carly or Chief for a day, who would you choose to swap roles with and why?
I would totally swap roles with Carly because well, my Beagle can climb trees!
The first time she did it I was pouring a cup of coffee in the kitchen, looked out the window and she was sixteen feet in the air, up the tree, chasing a squirrel!
Her attitude was 'no one told me I couldn't climb trees, so I did!'.
I love how she owns her life and herself. I kinda wish I was a little more like her.
Anyone who watched last season of the Real Housewives of Dallas will remember your now infamous matching hot dog costume scene with Carly.
Now that season three has kicked off, what can we expect?
I wish I had some amazing secrets to share with you about season three but sadly I don't think we're going to have anything as iconic as me and Carly in our hot-dog costumes. She'll always be my favourite hot-dog!
You'll definitely get to see her back on camera though, strutting her stuff, working her moves and owning the room.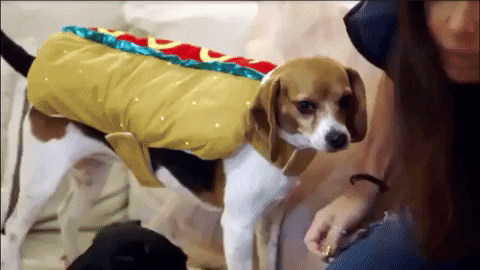 Season two ended on a kind of a strange note from where it began between you and Brandi being on good terms, although she apologised in her Bravo blog after the reunion. What did you make of what she wrote?
I appreciated Brandi's apology in her blog after the reunion but I think it would have been a little bit more authentic if she had sent a text, picked up the phone or even sent an email, it would have made me believe it a little bit more.
I think just wanting to sway the audience isn't a good enough apology for me.
Will we get to see you ladies have fun together as a group this year?
I certainly hope we have fun this year, I can't share if we do or not (laughs), but if you stay tuned you'll find out real quick.
The Dallas Housewives seem to be the most dog friendly of all of the franchises, with everyone on the show owning at least one dog. How dog friendly is Dallas as a place to live?
Dallas is one of the most dog friendly cities in the entire country.
Everybody has a dog and everybody takes their dog to the park, there's probably over fifty dog parks alone in the city of Dallas.
In fact, Rich and I will be judging the cutest pup in one of the parks here. I have to say, people are obsessed with dogs here and I totally get it. I'm obsessed with mine.

Photo Credit: Hilary Grace Cinque / Grace & Goose Photography
We ask all of our celebrities this question, it's all in the name of fun.
Based on personalities alone, which breeds of dog come to mind when you think of these dog loving Real Housewives stars (and why)?
Bethenny Frankel - When I think of Bethenny I think of a lone wolf. I'm not sure that's a breed of dog but that's what I think of!
Lisa Vanderpump - Lisa Vanderpump, are you kidding? It has to be the Pomeranian. A perfect little pink Pomeranian.
Kameron Westcott - When I think of Kam, I think of a little Yorkie like her dog, Louis.
She is obsessed with Louis and to be honest with you, I'm not sure Louis is that obsessed with Kam. (Laughs)
Kenya Moore - (Thinks about it) Probably a mini French Bulldog.
And last but not least, Andy Cohen - Andy, c'mon! He is totally a Beagle!
He and I are gonna fight over the Beagle all day long! He is his Beagle, Wacha - big time.
Carly actually has a crush on Wacha and he hasn't returned her tweets so it's very depressing in the house when we talk about it.
And what about you, what breed of dog would you be and why?
I am a Jack Russell Terrier because they are just super, super smart. I could see the MENSA for dogs would be totally owned by Jack Russell Terriers.
Moving onto our quick-fire questions, are you ready?
Go for it!
Describe the last time you laughed out loud because of something you saw Carly and Chief or another dog do.
I laugh out loud every single day with Carly and Chief because they play a game called Bone Wars.
I give them each a bone and Chief eats his right away because he is food orientated but Carly lays very still with her bone under her paw waiting for Chief to be done, then as soon as he's done, she gets up and starts to eat it. It's so funny.
That always makes me laugh.
That and when Carly takes food right out of Rich's mouth! (Laughs)

Photo Credit: Hilary Grace Cinque / Grace & Goose Photography
What do you think is the most important life lesson we can learn from dogs?
The most important lesson is to forgive. You never see a dog hold a grudge.
You see them be scared because they've been abused over and over and over again, but they don't hold a grudge or have any anger in them.
I think that's such a wonderful, loving thing that we can learn that from dogs.
Finish the following sentence, my dogs are…cheerful, adorable, hilarious, loyal and my best friends.
This is always a tough question so you might need some time to think about it, but if Carly and Chief had the ability to speak and they could tell you one thing, what would you want them to say?
Okay, here's the deal - if Carly and Chief had the ability to speak I would be in big trouble! That's why I don't have kids because I don't want what I say in this house repeated. (Laughs)
I guess I would ask them if they love me but I already know that answer 'cause Carly lays her head on my chest and Chief brings me his toys, so I guess I would ask them how I could love them better.
Before we finish up, we have one final question for you. We know you're partial to Southern Sayings so which one best sums up our chat together about Carly and Chief?
This chat made me happier than a pig in mud!
Perfect, us too!
Many thanks, LeeAnne!